Congrats to Flavor Savers for their first Higgyball championship!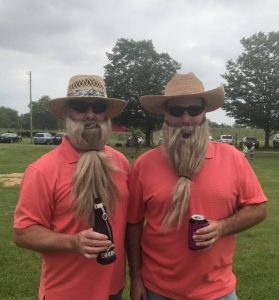 A good mix of old guard and new blood in the final four, also including Corner Boys, Charging Rhino, and Pornstache. MVPs this year were Amanda Tharp and Wayne Proffitt (he of the only recorded double baci in Higgyball history). It was great seeing all of the new faces this year, thanks for joining us! A big thanks to Holly, running the deck to make sure everyone got on the right fields. And as always, thank you to our gracious hosts, Danielle and Marc, for the awesome venue.
If you have photos from this year's event, please send them our way, whether it's via email, Facebook, flash drive, or Pony Express. A big part of Higgyball is the nostalgia factor, and it's always great to look back at the photos years later.
Today is the longest you'll have to wait for more Higgyball. See everyone next year for Higgyball 15!