For the first time ever, team registration filled up in less than 45 minutes. Amazing! If any registered team has to drop out for any reason, let us know as soon as possible and we'll refund your money. For those that missed the boat, if you haven't already, please use the Wait List to reserve a potential spot in the field of 28. We've had to draw upon that list many times in the past. Also, the Music Registry and Food Registry are still open, so check those out.
I see some new names in the crowd, so you'll probably need some directions. Higgyball will be held on Saturday, May 25, 2019 at 11:00am (be on time!) at the stately Tincher-Mann estate: 7650 King Rd, Oxford, OH 45056.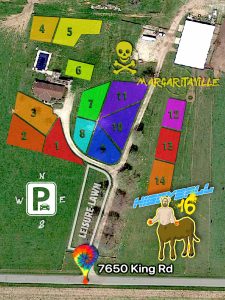 Head over to the Higgyball Rules for a refresher on how we play. We'll be doing Swiss Pairs again for the first five rounds, and then a single elimination tournament to determine the ultimate champion.
Lastly, don't forget to order your H16 Higgyball T-Shirt. Your last chance to buy one is 11:59pm on Sunday night, so don't delay!